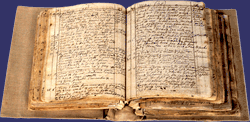 I have been engrossed - and enchanted - these last few weeks, in reading the diary of Martha Ballard.
If you don't know who she was, she was a mid-wife in New England, who kept a diary about her life, family and work, at the end of the 18th century. She kept that diary for 27 years - from the age of 50 until she died aged 77, recording the weather, the babies she helped into the world, and her accounts of her earnings. She talks about her friends, her neighbours and her husband - always, very correctly, 'Mr. Ballard', and their children and grandchildren.
Her last entry was exactly 200 years ago today, just before she died.
You can read about her
here
, and follow the transcript of her diary, but spare a thought for this woman - a true heroine, a real person...
© Copyright 2000 by the President and Fellows of Harvard College